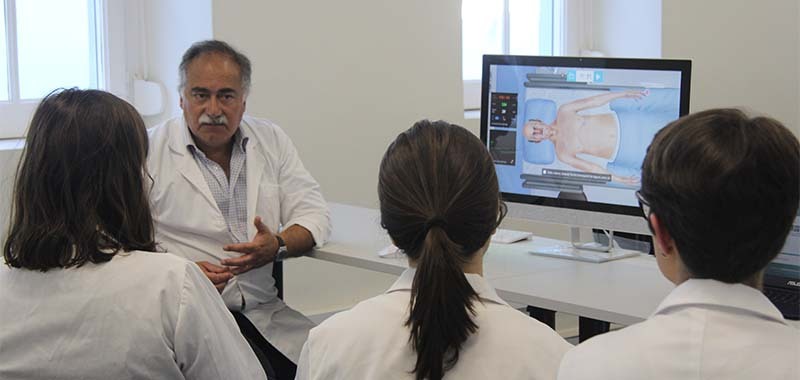 Body Interact, the Virtual Patient Simulator since its creation has been used by universities and other higher education, across the globe. Medical, Nursing, Emergency Medical Services, High Schools & CTE, Community Colleges and Physiotherapy curriculums, from the first year of those curriculums to graduation and Continuous Education, successfully employ Body Interact in more than 20 different clinical specialties, such as Cardiology, Endocrinology, Emergency Medicine, Obstetrics, Respiratory, Oncology, Vascular Diseases, etc.
Within its focus on the clinical reasoning and decision-making skills development, the Virtual Patient Simulator is defined by its worldwide users as useful and flexible resource that can be merged from Traditional learning models (to provide more engaging and active classes) to Student-Centered learning. From on-site to online approaches, such as large group or small group teaching, Flipped Classroom, Blended Learning, Problem Based Learning, Team based learning, etc.
Flipped Classroom methodology
According to the Flipped Classroom concept, students are assigned with didactic material, traditionally covered in lectures, to be learned before class while using face- to-face time for more engaging and active learning strategies.
According to HEW, K.F & LO, C.K.,2018 and Hurtubise, L. et al.,2015, the introduction of this methodology presents several benefits such as:
Promoting an inclusive learning environment
The chance to be implemented either on an educational unit as small as a lecture and as large as the entire curriculum
Controlling the pace, as well as review concepts before and after classes
Identifying learning gaps and the developmental stage of students
With the help of Body Interact, at the same time educators can create opportunities and resources for pre-learning of didactic materials (short recording, scientific references, PPT, educational technologies, etc.), they are developing formative and diagnostic assessments to determine their students' learning gaps.
For this purpose, educators have access to Body Interact – Learning Management System allowing teachers to assign clinical cases to each student, collecting the metrics and data to assess and evaluate students' performance.
Challenges of the methodology
All methodologies have their requirements. In this case, to be successful, teachers need to clearly know the overall curricular goals, the underlying theories of education, master the active learning strategies they suggest implementing, and keep up with new education technologies. Through Safety project you will be able to understand how you can implement simulation resources in your curriculum, as well as identifying which learning approach fist your institution and learners' needs.
Written by Rita Flores from Body Interact (Take the Wind, S.A., Portugal)