Project Outline
Simulation Approach For Education and Training in emergencY (SAFETY) is a three years EU Erasmus+ project (Key Action 2) aiming at assessing the gap between theoretical and practical knowledge in Emergency Medicine & Simulation sector. The SAFETY project is coordinated by the Department of Medical and Surgical Sciences, University of Foggia (Italy).
The project goal is to cooperate in the exchange of knowledge and good practices to realize a course of study in the fields of Emergency medicine and intensive care.
SAFETY project aims to renew the existing training offer and to overcome training gaps, making practitioners safer and ready to operate in real emergency conditions or collaborate with companies involved in the development of medical simulation tools.
General objectives
We aim to:
Build-up the Body of Knowledge of Higher Education in Emergency Medicine & Simulation (EM&S) for Clinical education and training and Simulation device;
Design a New Model and Best Practices on Higher Education in EM&S;
Disseminate Project findings to replicate Best Practices and innovate EM&S Master Programs throughout Europe.
Project Milestones
Knowledge Needs and Gap Analyses of Higher Education in EM&S
Body of Knowledge (BoK) in EM&S
Courses and e-learning Modules renewed upon the BoK Guidelines
Best Practices for renewing EM&S Master Programs
Target Groups:
SAFETY will indeed focus on the needs analysis of different target groups, together with the adoption of advanced medical simulation techniques, using both high-fidelity manikins and virtual simulation techniques, to structure new courses and strengthen skills and modernization of European higher education systems. SAFETY will involve:
Students & Alumni in the Emergency medicine & Simulation sector
Academic community
European companies engaged in the medical simulation sector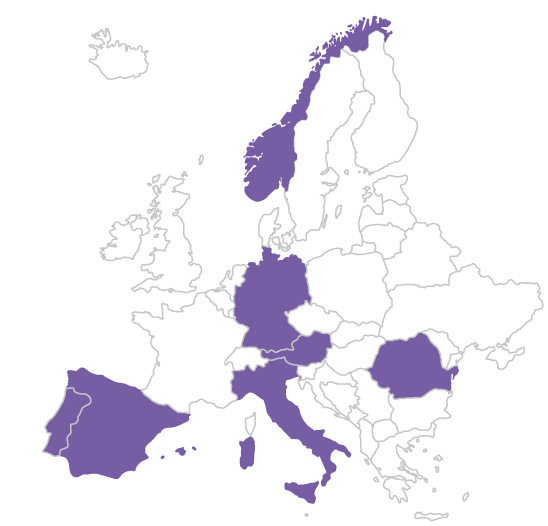 Project Partners
The SAFETY project involves 10 Partners, 5 universities and 5 companies, from 7 European countries (Austria, Germany, Norway, Portugal, Romania, Spain, and Italy) engaged in the field of Clinical education and training and Simulation device and with the aim to improve the training offer in the emergency medicine and intensive care sector.