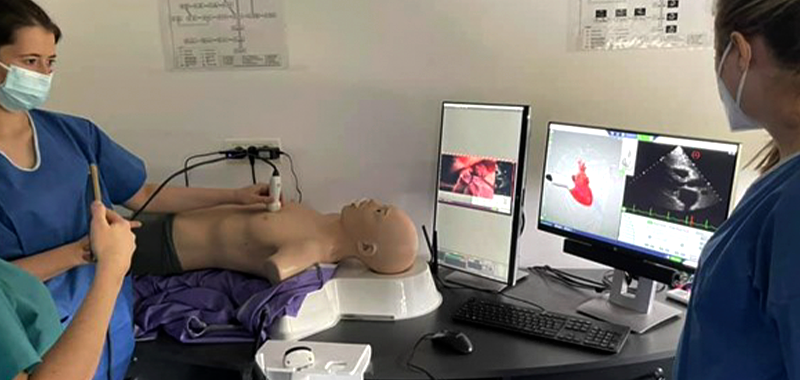 Although usually addressing groups, educational processes are ultimately individual experiences, each with singular contingencies and challenges. Consequently, it may seem that rigorous planning of educational pathways risks planning the indefinite. Hence, it is doomed to fail. Nevertheless, teaching and learning syllabi are generally well entrenched, helping to standardise training and allow precise quality and performance assessment. Regardless of the field of study or discipline, the delivery of any curriculum starts with defining a minimum set of core competencies, i.e., training outcomes, that should be shared by teaching programmes across groups, institutions, and even national borders. It is necessary to acknowledge that the larger the scope of application of any curriculum, the larger the need to compromise as core competencies must be universally applicable but still comply with national or local constraints.
The Centre of Simulation in Anaesthesia and Intensive Care Medicine Bucharest (CESIMAB) aims to harmonize the delivery of teaching and learning through simulation. Aside from being involved with the SAFETY Project, a few other recent endeavours are a testimony to this pursuit.
Since its inception in 2019, CESIMAB has endorsed a local curriculum that allows stratified training through simulation of residents across all five years of residency. So far, this has mainly revolved around the acquisition of basic technical (i.e., peripheral and landmark/US-based central vascular access, airway management, life support, nursing toolkit) and non-technical skills (i.e., leadership, teamwork, communication, and decision-making), but is poised to expand and encompass two other interrelated tiers, applied physiology at the bedside and critical care ultrasonography (CCUS).
The former becomes possible with upcoming equipment that allows advanced theoretical and applied training in mechanical ventilation, extracorporeal support and hemodynamics.
The latter has already been in place as early as 2019 but hindered greatly by the COVID-19 pandemic. As CCUS constitutes a quintessential competency to benefit from simulation-based enhancement of cognitive and psychomotor skills, CESIMAB has actively provided local and national CCUS preparation workshops (i.e., CESIMUS). Furthermore, in close cooperation with the Romanian Society of Cardiology, CESIMAB aims to formally launch a national curriculum of CCUS training with equal support across four other Romanian simulation centres (i.e., SimLab Timisoara, Cluj, Iasi, Tg. Mures).
Recognizing the need to synergize, all five simulation centres have recently joined up with European Society of Anaesthesiology and Intensive Care representatives to develop a unifying framework of simulation-based education in anaesthesia and critical care.
Unquestionably, effective training delivery and evaluation need relentless and consistent refinement. However, whilst the best and most efficient way to achieve that remains debatable, multinational and multidisciplinary collaborative initiatives are more likely to enrich outcomes, professional cohesion, and expertise.
Written by Cosmin Balan, Mihai Stefan, Liana Valeanu, Cornel Robu, Cornelia Florescu, Șerban Bubenek, Daniela Filipescu from the Emergency Institute for Cardiovascular Diseases (EICD) "Prof Dr CC Iliescu", Bucharest (Romania)