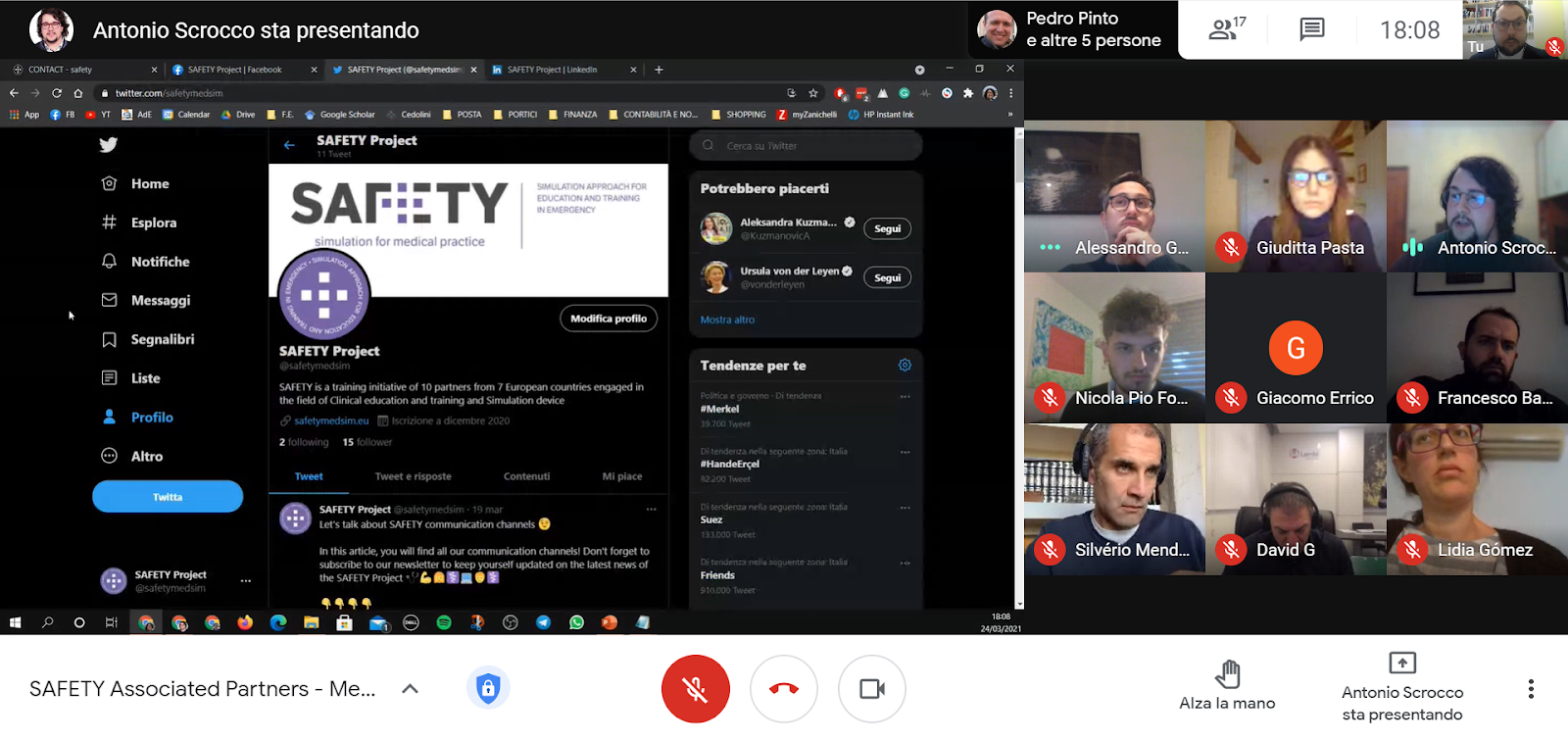 On 24 March 2021 was held the first Associated Partners meeting of SAFETY – Simulation Approach For Education and Training in emergencY, a project funded by the European Programme Erasmus + Knowledge Alliance 2: Cooperation for innovation and the exchange of good practices, coordinated by the Department of Medical and Surgical Sciences of the University of Foggia (Italy).
The 10 project partners from 7 European countries (Austria, Germany, Norway, Portugal, Romania, Spain and Italy) gathered to welcome representatives of the Associated Partners – associations and companies engaged in the field of Clinical education and training and Simulation device.
The University of Foggia, represented by Fedele Colantuono and Francesco Barberio, introduced the SAFETY Project and illustrated the surveys on the needs analysis that will be disseminated in the coming days and which will aim to understand the gap in the emergency medicine and simulation sector and fill it with the development of a course of study around Europe and even beyond.
The Dissemination Manager Antonio Scrocco presented SAFETY dissemination activities and he also explained the important role of the associated partners within the project.

A screenshot with the participants of the Associated Partners meeting.
The SAFETY project is a training initiative that allows 5 universities and 5 companies to cooperate in the exchange of knowledge and good practices to realize a course of study in the fields of emergency medicine and intensive care.
Through e-learning courses and the use of innovative simulation systems, the project aim is to renew the existing training offer and to overcome training gaps, making practitioners safer and ready to operate in real emergency conditions or collaborate with companies involved in the development of medical simulation tools.
For more information about the SAFETY Project, visit our website and subscribe to our newsletter to stay up to date on the latest project news.