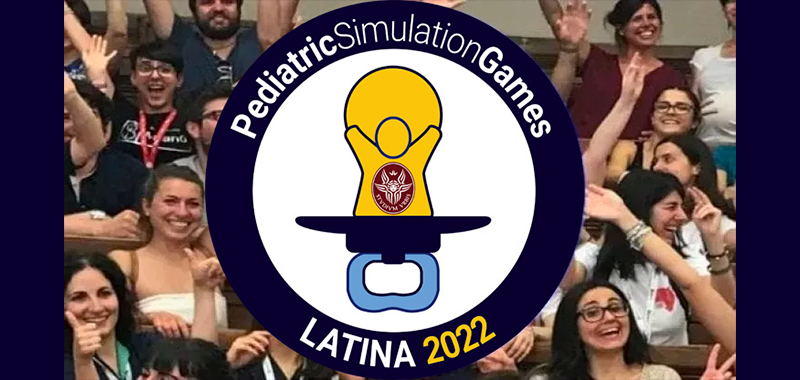 From September 5th to 10th the Pediatric Simulation Games (PSG) were held in Latina. The initiative was born in 2017 and interrupted for two years due to Covid19. The Idea behinds is to encourage the teamwork among pediatric students, making the teams to compete one each other on how to solve quicker a simulated emergency in the child.
Considering the success of the PSG over the years, the 2022 edition, organized by Sapienza University of Rome, extended the participation to universities from other countries in Europe. The PSG become an appointment among the Italian pediatric residents, thanks to its enjoyable and competitive approach of 'Learning by Playing' and 'Playing to Learn'.
Despite the friendly approach, there is a high technical competition, nurtured by high-challenging rules provided by the international jury composed of by the major exponent of world-wide Pediatric Emergency Care: Berg, De Caen, Kleiman, Nadkarni. These judges observed the teams compete on algorithms of PALS, assessing performance in terms of communication, leadership, timing of decision taking, fixing learning during the debriefing at the end of each match. 30 Teams played several eliminations' rounds until get the two which played the final match for the winner nomination. Verona University Team1 won against the Team which represented Milan University.
Laerdal supported the PSG during the competition, with high-fidelity simulators, Sim Junior® and skilled technicians in control room; offering, during the months before, its own Simulation Lab, placed in Bologna, to give to the teams more chances to make practice
Professor Riccardo Lubrano, PSG founder, emphasized that the event is conceived to facilitate all behaviors able to apply the best interventions wherever the accident or emergency occurs, raising soft skills up2
Written by Novella Callero, Juri Bendini and Luigi Danesi from Laerdal Italy
1 –  https://www.pediatricsimulationgames.it/psg-2022-vince-la-squadra-di-verona/
2 – https://video.corriere.it/pediatric-simulation-games-cosi-si-salvano-vite-piccoli-pazienti/8b31666a-31ac-11ed-9cac-ecf597c0016a