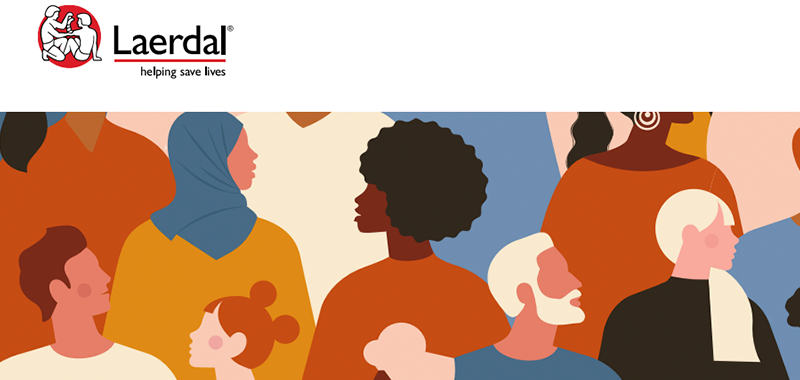 Through the years the medical world has been witness of several marked disparities in care between different racial, ethnic, and other demographic population
Racial and ethnic minorities tend to receive lower-quality care which is the result of a lack of practical and educational training.1 At Laerdal, we think it is critical that healthcare providers are trained to identify factors and trends that may affect a patient's health and that they are trained to treat these patients with what is now commonly referred to as "cultural humility".
No one should receive inadequate care because of a failure to treat them appropriately and adequately as a whole patient – regardless of race, ethnicity, or any other unique characteristic.
Culturally competent, patient-centered care focuses on each patient's differences, needs, values, preferences, and individualized care provisions as method of reaching the best possible patient outcome.
As a global leader in Healthcare Simulation, Laerdal aim is to build cultural awareness, broaden competencies and improve the simulation users' experiences through the introduction of solutions that promote equitable care.
The focus of our mission is to suggest "Simulation based-training" as a proven method to change behaviors and improve outcomes, offering to healthcare providers the context necessary to deliver equitable care where it starts, so at the patient bedside.
It can be difficult to teach cultural competence through textbooks and lecture alone. Simulation can help to create a learning environment that is representative of the diverse society, in terms of age, race and gender.
Always focused on the reliability of the clinical features of our simulators, we have entered collaborations with leading international film makeup artists [*] to add a realistic look to our simulators. The latest addition Laerdal SimMan 3G PLUS which provides a perfect solution that supports equitable care, enhancing realism and clinical utility, thanks also to the ability to train using real clinical devices helps prepare learners for a real-world situation.
This Simulator, capable of representing a diverse range of patients with minimal downtime, is easy to operate and is designed to provide users a fully immersive simulation experience.
SimMan 3G PLUS introduces interchangeable facial skins available in various skin tones.
The patient presentation is not anymore limited to a young white male but depending on the training scenario, the patient's appearance can be easily changed, and eventually becoming geriatric.
Finally, diversity and inclusion can be integrated into clinical training.
This is the right path to shape a world that promote Equitable care and create more culturally inclusive simulation.  A world where No matter of the age, gender or race, healthcare providers will have the abilities to guarantee the cares that everyone needs.
Laerdal's mission, with its products' portfolio, is to guarantee that one day we will live in this world.
[*] https://www.google.com/searchq=youtube+stuart+bray+laerdal&oq=youtube+stuart+bray+laerdal&aqs=
chrome..69i57j69i60j0l4.11013j0j7&sourceid=chrome&ie=UTF-8#fpstate=ive&vld=cid:f7dc69d6,vid:5isvWYku7og
Written by Claudia Guarneri and Novella Callero form Laerdal Italy
1.https://laerdal.sharepoint.com/sites/KnowledgeLink/SitePages/Together,-we-can–BreakTheBias.aspx
2.https://laerdal.sharepoint.com/sites/News-Americas/SitePages/We%27re-Leading-with-Way-on-Addressing- an-Important-Mission-Driven-Issue.aspx
3.https://laerdal.com/it/products/simulation-training/emergency-care–trauma/simman-3g/