The COVID-19 pandemic has caused an unprecedented disruption in medical education and healthcare systems in Romania and worldwide [1]. The cancellation of clerkships, which are necessary for both skill acquisition and relationship building, is a serious issue that students and medical schools must now resolve [2].
In our institution (Emergency Institute for Cardiovascular Diseases "Prof. Dr CC Iliescu" – EICD) every in-hospital patient has been tested for Sars-Cov-2 infection since the beginning of the pandemic. The results were available in 12-36 hours depending on the laboratory availability. During this time, there were restricted interactions with the patient, and the most senior medical personnel provided the care. Junior trainees and students had limited, or no access to COVID-19 confirmed or suspected patients, respectively, until health care vaccination started in December 2020. This protective but restrictive measure, together with the drop in hospitalisations, both urgent and scheduled, and cancellations or postponement of non-urgent surgeries dramatically impacted the medical training. Acquiring airway management skills, practising arterial and venous canulations and even basic (BLS) and advanced life support (ALS) were less accessible to junior trainees. For example, in case of cardiac arrest outside the intensive care unit, the institutional new standard operating procedures imposed the use of high-level protective equipment, the presence of a senior anaesthesiologist and a limited number of helpers for resuscitation, regardless of the COVID-19 status of the patient. While these measures were taken for patient and staff safety, they were also barriers to junior physicians' training. In this context, simulation programs may ensure the level of knowledge and skills mandatory for emergencies' preparedness.
The EICD started implementing a simulation program in the Centre of Simulation in Anaesthesia and Intensive Care Medicine Bucharest (CESIMAB) in association with the Romanian Society of Anaesthesia and Intensive Care (SRATI) two years ago. The program stopped at the beginning of the pandemic and resumed this year with weekly training rounds for first and second-year trainees in anaesthesiology and intensive care. The sessions include airway management and vascular access, clinical emergency scenarios, BLS and ALS. The feedback from trainees is excellent and attracted trainees from 3rd and 4th year of training, too.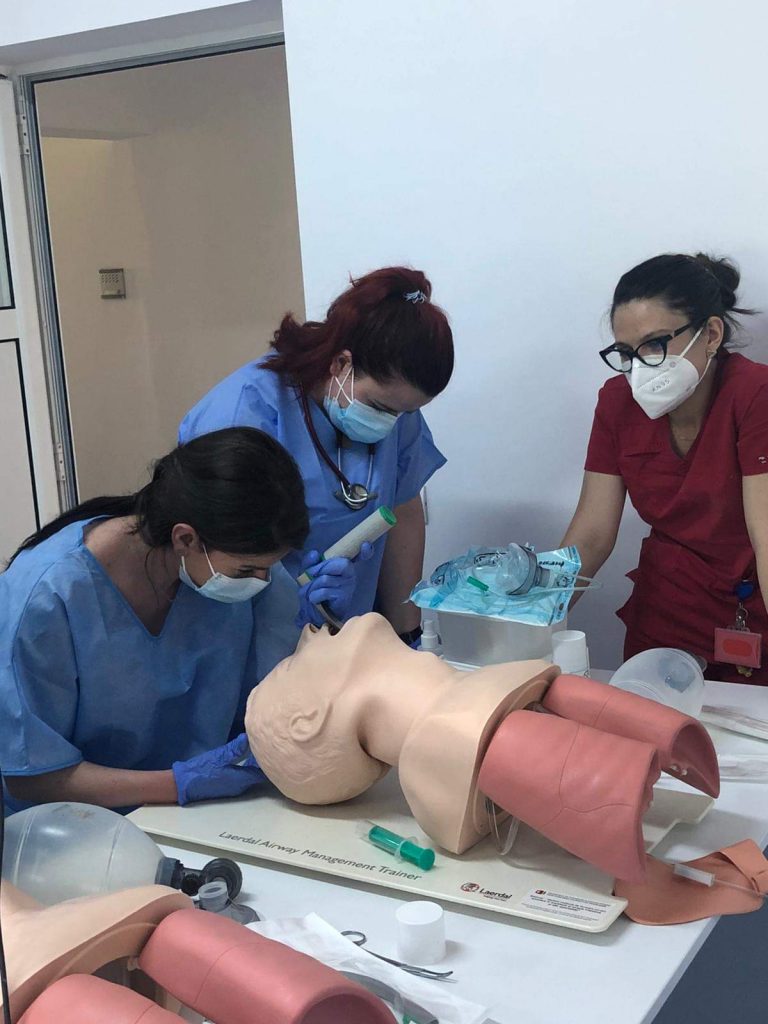 Students had even more limited interactions with patients during the pandemic. All courses were online and in-hospital practice was interrupted for months. Although there were volunteering programs for students in COVID-19 hospitals, their preparedness for emergency and critical situations decreased.  The imbalance between the great number of students and the low number of simulation platforms and trainers is the most important obstacle in offering simulation programmes continuously for students. This situation urges the development of more simulation centres for medical students and online tools that could improve medical education for emergencies.
The crisis in training created by the SARS-Cov-2 pandemic emphasizes the importance of the SAFETY project. Those who will benefit the most from this project are the medical students. Simulation can improve the students' skills and create a safe environment for patients and medical personnel.
Written by Cornelia Predoi, Mihai Ștefan, Cosmin Bălan, Liana Văleanu, Cornel Robu, Șerban Bubenek and Daniela Filipescu from Emergency Institute for Cardiovascular Diseases "Prof. Dr. CC Iliescu" – EICD, Bucharest
References
Alsoufi A, Alsuyihili A, Msherghi A, Elhadi A, Atiyah H, Ashini A, et al. Impact of the COVID-19 pandemic on medical education: Medical students' knowledge, attitudes, and practices regarding electronic learning. PLoS One. 2020 Nov 25;15(11):e0242905. doi: 10.1371/journal.pone.0242905.
Akers A, Blough C, Iyer MS. COVID-19 Implications on Clinical Clerkships and the Residency Application Process for Medical Students. Cureus. 2020;12(4): e7800–e. pmid:32461867.