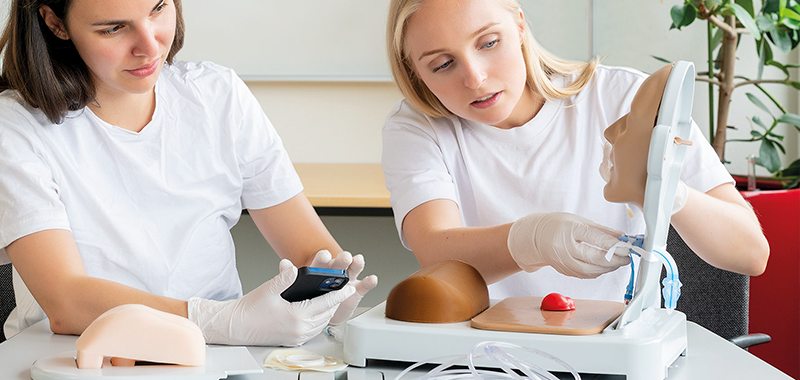 Two of the biggest barriers in nursing education today are lack of time for deliberate practice and resource shortages. SimCapture for Skills with Modular Skills Trainer is a unique solution going beyond virtual course delivery to combine digital technology and hands-on skills practice more effectively with efficient assessment and evaluation tools.
This solution increases training flexibility to fit today's Nursing school needs for remote, on-site, or blended learning. Through access from any web-enabled device, students can pace their learning and deepen their understanding of performing essential clinical skills either by themselves or with a partner to build skills mastery. Utilizing this combined solution, faculty can optimize teaching delivery, evaluating students' practice from anywhere while providing precise remediation and resources to improve learning outcomes. Together, SimCapture for Skills with Modular Skills Trainer closely connect faculty to their students to build up confident and competent future clinicians SimCapture for Skills with Modular Skills Trainer delivers hybrid learning for skills proficiency, combining the power of digital technology with hands-on skills practice. SimCapture for Skills, the digital component of this combined solution features an easy-to-use mobile interface for peer-to-peer training along with self-recording capabilities for learners. It's cloud-based platform makes it compatible with any web-enabled device with no special AV system required.

Faculty can now deliver, monitor, and track students' hands-on skills competence development from anywhere, on their own time.
Actionable insights: train, track, and monitor students' skill competence development from anywhere.
All data is collected in helpful reports for learning needs analysis at the individual and course level.
Objective evaluation: save time and resources when grading students with insights from video training and data capture.
Deliver training from anywhere: plan everything in SimCapture where learners can easily access content and training.
The SimCapture for Skills solution is disrupting the way students are trained today.
As a result, we are hoping to reach more than 160 000 students across our regions to master their skills anytime, anywhere with our new solution – and support their educators with achieving better program outcomes!
Written by Luigi Danesi, Juri Bendini and Novella Callero from Laerdal Italy