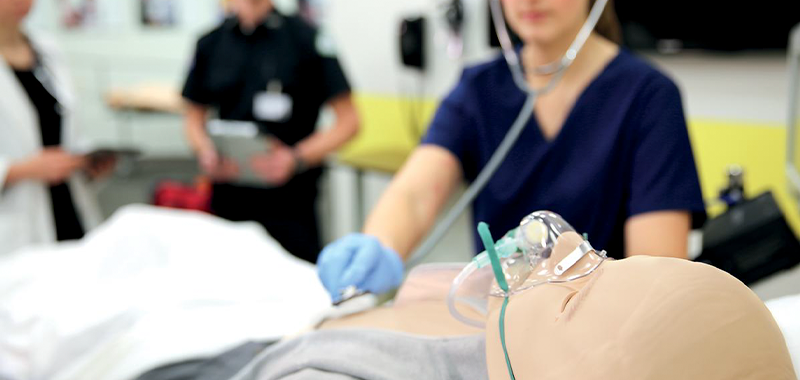 As reported in many safety articles before, teamwork in operating rooms critically influences patients' safety and quality of case. Simulation-based team training (1) is an effective method to impart these important qualities like teamwork, decision-making and quality care, among interprofessional teams.
As mentioned before in this group, medical simulation is a useful practice in the medical field as it stimulates the acquisition of clinical skills through deliberate practice. It is more of a professional type of learning rather than an apprentice approach to managing patients.
The useful approach of simulation training has helped medical trainees to do things without the fear of making mistakes or harming the patient. It has also enhanced clinical competence and reduced medical errors or associated costs.
There was a lot of research done so far where medical simulation has proven to ensure efficient procedures in the emergency department.
For example, according to Thomas C. Sauter and colleagues (2) in 2016 that medical simulation has also been effective in ensuring safe sedative procedures in patients.
Sedation is an important procedure for various interventions in the emergency department, starting from cardioversions to surgeries. However, as emergency departments are more prone to high-risk patients along with changing interdisciplinary and interprofessional teams, one cannot avoid the risks associated with it. That's why simulation-based sedation training was introduced to check whether a standard operating procedure could be implemented to assist in this challenge, followed by a research study on it.
Physicians and nurses from a Department of Emergency Medicine participated in the project with a curriculum of individual self-learning modules, three simulation-based team training cases, an airway skill training course, and a final practical learning course in the operating room.
Each of the aspects, like self-efficacy, emergency procedure awareness, knowledge, and crisis resource management, was checked before and after through a questionnaire. Other things like the beginning, duration, and ending times of procedures were also checked.
In the results, it was seen that about fifty staff members, including 26 nurses and 24 physicians, in each subgroup showed increased self-efficacy and knowledge with a high effect. The learning was independent of both profession and experience, and no major complication was seen in the sedation. Additionally, the time to procedure also improved significantly with the training.
Another interesting study (3) was done to check the improvement in delivery room communication between obstetric and paediatric teams. As poor communication between both these professionals is associated with adverse perinatal events causing disability and neonatal mortality, the effectiveness of an interdisciplinary simulation-based training program was thoroughly assessed.
Both obstetric and paediatric professionals participated in the research between 2008-2011 (3 academic years), with participants like house staff, mid-level providers, nurses, and attendings who are generally present in the delivery room care. These simulations were recorded and evaluated with a 20-item checklist of best communication practices along with the Kruskal-Wallis test. Other things like the questionnaire and ratings were also surveyed and analysed.
Ultimately, it was found in the results that about 60% of eligible providers participated in one or more sessions and completed the surveys yearly. When the checklist scores were compared, the SBT from the first to the third year improved dramatically. Not just that, there was also an improvement over time in inter-team communication during the actual deliveries by obstetrics/paediatric professionals. There was also improved communication of obstetrics with the patient family.
In a further study (4), students were randomised to participate in either five classroom tutorials and simulation training sessions or five classroom tutorials and online e-learning modules dealing with anaphylaxis and clinical decision making. When their results were compared through an unseen assessment scenario, the simulation group identified and provided anaphylaxis treatment quicker. They were also more confident with the diagnosis and initiated emergency treatment.
These are just a few more examples from different areas of medical care, where simulation helped to increase performance of healthcare providers or patient outcomes.
Stay tuned for more info on this channel!
Written by Lukas Drabauer from Alpha Medical Concepts (AMC)